By Jason Beck
Val Johnson's philosophy when it comes to coaching athletes is so powerfully simple, every coach and any teacher for that matter too would be wise to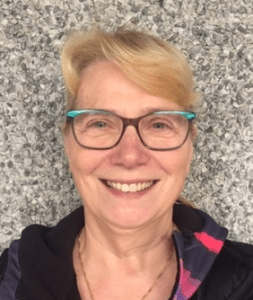 consider it.
"When you're an instructor or coach of gymnastics, you have the ability to change a child's life in one hour," she told me over the phone in late March, pausing for a moment for emphasis on that one fact. "Because you don't know when the kids come to the classes where they've come from. You don't know what their life is. But you have a whole hour to make them feel good about themselves and to make a difference. That sums up my philosophy. It's what I believe."
When you read over Val's resume as one of Canada's most successful trampoline coaches ever, as well as one whose athletes have themselves given back selflessly to the sport of trampoline and gymnastics in general, you can't argue with this approach. It makes sense why Val has clung to this philosophy for fifty years now. She herself had her life changed in one hour back in 1968. She's living proof that this philosophy works wonders. Perhaps that's where we should start our story.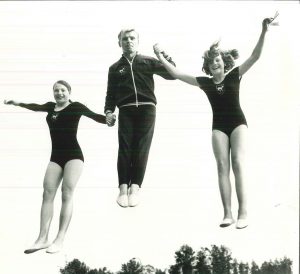 Val de Paul was born March 15, 1953 at Saint Mary's Hospital in New Westminster. In Grade 3 at St. Peter's elementary school gymnastics was offered once a week in PE taught by teacher Alex Strain. It was her first exposure to the sport.
"I loved it," she recalled. "That was the highlight of my week."
There was no gymnastics when she entered high school though and for many that might have been the end of the road for their athletic story in this sport.
But one day in January 1968 everything changed for Val. The City of New Westminster had built a community center and started a gymnastics program there.
"First class was on January 15th, 1968," she began. "I remember the day. I remember the day. It really changed my life. It was where I wanted to be."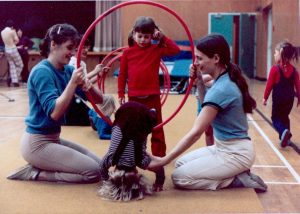 Val continued attending gymnastics classes at the New West community center once a week through her teens. One discipline quickly sprung high above the others for her you could say: trampoline.
"Trampoline was the part of gymnastics I really connected to," she said. "Just loved it. As an athlete just the action of jumping in the air and doing maneuvers. It feels so powerful. It's just something that I loved to do. I'm very passionate about it."
How passionate? Get this. Val was 14 when she began teaching gymnastics classes for young children at the New West community center. You read that correctly. Fourteen. Most 14-year-olds have enough trouble just getting themselves to class, let alone teach one. She started as a volunteer for a year and when she turned 16, the City of New Westminster hired her in 1969 as an instructor.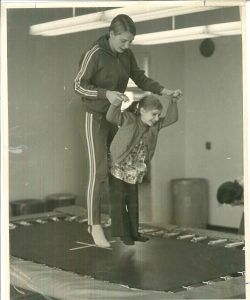 "It was a little different back then!" she laughed. "Because I was so involved in the sport, I just wanted to be in the gym all the time. I didn't spend a lot of time with my friends when I was in the gym training every day. That was my world. It was a perfect fit for me."
And she just kept going. 2020 marks her 51st year working for the City of New Westminster.
"I just ended up staying! I've been really fortunate. I've loved every moment of my career and my coaching."
Over time her job evolved from instructing to being the supervisor for the program and the Gymnastics and Trampoline Program Coordinator, which is her full-time job right now. She remains the only gymnastics and trampoline programmer ever employed by the City of New Westminster.
But we're getting ahead of ourselves a bit. There's more to Val's story as an athlete herself.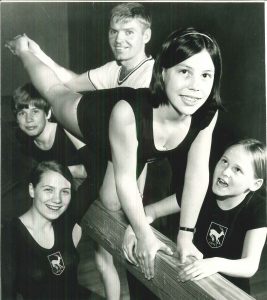 She was one of the founders of the first trampoline club in Canada, Ariel Trampoline Club, based in New Westminster of course. Val competed for Ariel from 1969-74, representing Ariel and BC at four national championships, winning the national trampoline title three times, in 1971, 1972, and 1973. The 1971 title also made her Canada's first-ever national champion in the sport. Twice she competed for Canada at the world trampoline championships. In 1972 in Stuttgart, Germany, the first time Canada had ever entered a team, she finished 6th in the B Class trampoline competition. In 1974 in South Africa, she finished 4th just off the podium in synchro trampoline and 12th overall in the individual.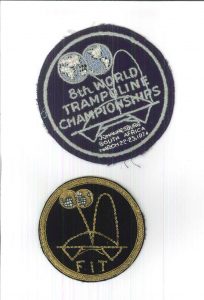 The entire time while she was competing, Val was also coaching already and by 1974 she was beginning to spend more time coaching than training herself. It was time to focus on that.
"I'd had a good run at it as an athlete," she said. "I'd had a late start, competing at like 16, whereas these days you start a lot younger. It was just time to finish and move on to start my own club."
In 1975, Val founded the Shasta Trampoline Club, now the oldest and one of the most successful competitive trampoline clubs in the country. Shasta drew athletes from the New West rec program and remained closely connected with Ariel. Dozens of her athletes have gone on to represent Canada over the past five decades.
The origins of Shasta's name stumped me at first. Was it sponsored by the 1970s soda company ("It Hasta be Shasta!") based in California? No, it wasn't. Or Mount Shasta in northern California? Partly. Val tells it best: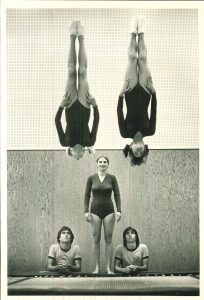 "When the club was being formed, I just couldn't get the perfect sounding name. I was just driving on the freeway one day and pulled up behind this camper van and on the end of the camper was the word 'Shasta.' It was the brand of the camper. It was written in really nice script and looked really nice. I thought, 'Oh I like the sound of that.' So then I researched the name a little bit and found there was a Mount Shasta in California. It's actually an active volcano and really majestic and powerful, so that's the name I chose."
Forgive the bad puns, but Shasta shook the Canadian trampoline scene to its core and proceeded to erupt a flow of national and world champions that hasn't yet abated. It began with Todd Legree in 1976, the first Shasta athlete to earn a Canadian jacket as a member of the national team. In 1982 at the world championships in Bozeman, Montana, Christine Tough from Shasta won Canada's first-ever world trampoline title. To date, Shasta athletes have produced at least 19 world championship and 31 national championship medals.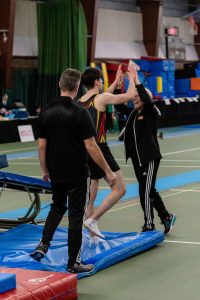 "That's my biggest accomplishment for my athletes," she said. "I want them to achieve their goals and at one time in their career if they can put on a Canadian track jacket and represent the country, then I'm really, really happy for that."
Val has served as BC's provincial coach at the Canadian national championships since 1996. She served as Canada's national coach at various international events including the following:
World Age Groups, Australia, 1978
Indo Pacific Championships, Australia, 2002
World Age Groups, Germany, 2003
Albacete Cup, Spain, 2006
She also served as a judge for the International Trampoline Federation (FIT) from 1976-82, including judging at several world championships and other major meets. She found it helped her coaching as she developed a better understanding of the details for deductions for skills, but judging meant less time for coaching, her first love, so she dropped it to focus on her athletes.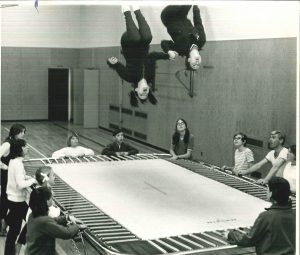 The changes she has witnessed over the course of her career in trampoline are remarkable. The sport was literally just getting off the ground when she began competing. There are more and much larger competitions now. Since 2000, trampoline has been an official Olympic sport and Canada has medaled in it at every Games. Safety measures have improved greatly. Equipment like faster, springier trampoline string beds that were just being developed when she began competing, by the early 1980s were being used in competition at the world championships. Athletes are jumping four to five times higher than when Val competed.
"The sport has come a long way and it's been amazing to watch."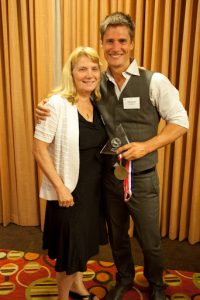 Some people compartmentalize their sport; for others, like Val, it seeped into all parts of her life. Gymnastics and trampoline are her world. Her entire family has been involved in gymnastics in some way. Her late husband Aaron was a two-time Canadian national champion and international trampoline competitor himself before coaching Shasta athletes and working with Cirque du Soleil. In 2004, Aaron and their son Travis opened the Vancouver Circus School based in New Westminster, Western Canada's largest recreational circus school where nearly a thousand kids learn circus skills and performances. Val remains an owner and advisor for the school and Travis runs the highly successful business today. In 2014, Travis appeared on CBC's Dragon's Den and succeeded in securing a deal with 'Dragon' Michael Wekerle: https://www.cbc.ca/dragonsden/pitches/vancouver-circus-school  Val and Aaron's daughter Sarah works in the same department as Val for the City of New Westminster.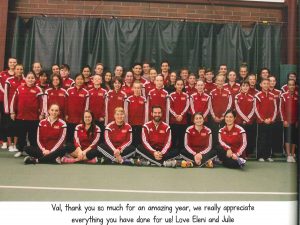 "These is no secret to the success I've had," she explained. "I do what I love and usually if you're passionate about something you make the right decisions and you're successful. If you can treat all the athletes as people, I think you have it made. One of the big senses of achievement that I have is when the athletes come back and I see them after many years. I hear them talk and they're so happy and thankful they were part of the club. It's a really, really strong club with team support and they made lifelong friends. It's really unique. I'm very fortunate."
Recognition for Val's lifelong work has trickled in over the years. She has been named Gymnastics Canada's Coach of the Year and Volunteer of the Year. Gymnastics BC named her a Member of Distinction in 2003 and upped that to a Life Member in 2006. Informed that she had been selected for induction into the BC Sports Hall of Fame—the first person from the sport of trampoline to be inducted—caught her off guard.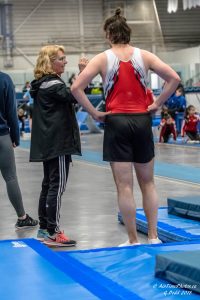 "I was quite taken aback, amazed and a little overwhelmed," she told the New Westminster Record in October 2019.
Asked what this induction means to her, she said: "I'm very, very honoured. But I know that I would not be here and have this honour if it wasn't for my athletes. So the honour belongs to them. They're why I'm here."
Her biggest challenge of late has been getting the new Queens Park Sportsplex built in New Westminster where training for Shasta and City of New West gymnastics classes can take place. Everything has been run out of the Vancouver Circus School since the sudden collapse in December 2016 of the old Arenex building that had been used for years. A heavy snowfall caused the largely wood-beamed building's roof built in 1938 to cave in. With so much personal history with that building and so much activity based out of there, the collapse hit her particularly hard.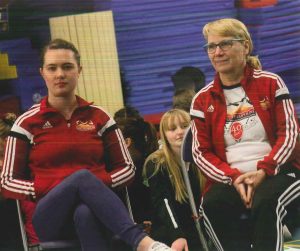 "It was really hard. Quite the shock. I was there that morning before it came down. It always had these creaking noises and I heard it that morning. I heard the creaking. I didn't think anything of it. I worked until 4pm that day and then left. Then one of the workers in the building that was doing some painting looked up and saw the crack in the beam. About two hours later it collapsed. Really lucky no one was in it. Three days prior to that our facility put on the Parks and Recreation luncheon. That was a Thursday, the collapse was on a Monday. We were very, very lucky."
Covid pushed back the opening of the new Sportsplex, which finally happened on November 2nd 2021. No one will be more relieved than Val.
"My focus has been to get the building up. Then we can get the classes back in there running and then Shasta back in there on schedule and then after that I can think about the next few years."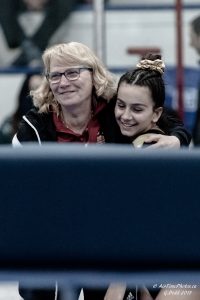 Those 'next few years' will undoubtedly be filled with coaching gymnastics and trampoline, her lifelong love.
"I'm loving what I'm doing so that's what I'm going to continue to do," she said.
You wouldn't expect anything different from someone who has been a fixture in Canadian trampoline for over half a century now.
In one hour that fateful day in January 1968 the direction of Val Johnson's life was set in motion and hasn't yet stopped. You could make the argument she's spent most every moment since that day trying to do the same for others and the sport in New West, BC, Canada, and the world is the richer for it.
Valerie Johnson was inducted into the BC Sports Hall of Fame in the Builder category as part of the Class of 2020 Induction.